Many people buy printers with an RJ-45 (Ethernet jack) and don't really understand that if they physically attach it to their home router that it will become available to every device (even wireless, including smartphones) on their network. We recommend HP printers with a built-in Ethernet network jack, like the model pictured below.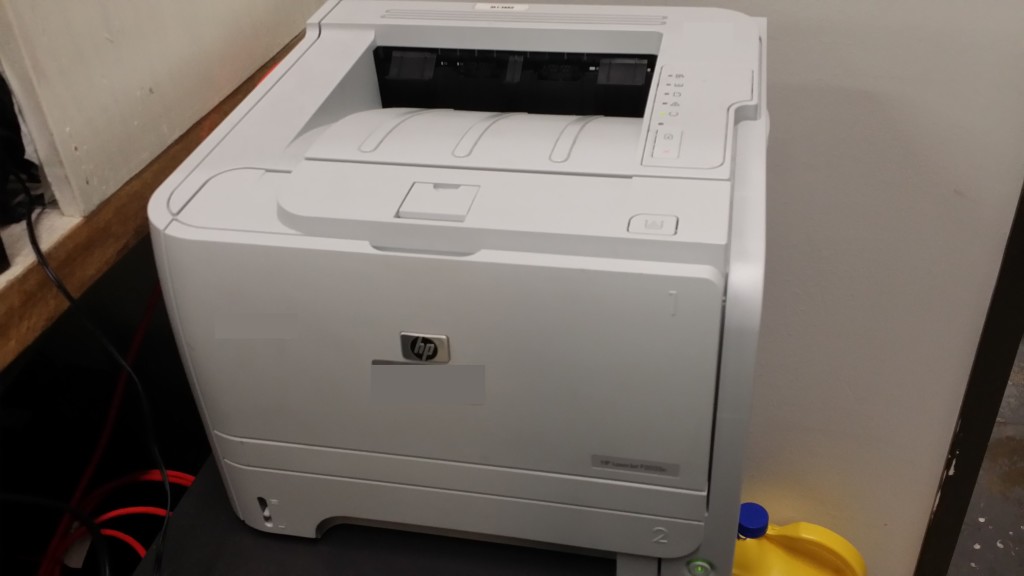 The method outlined in this article should work with almost all network based printers
Hooking it up is easy, here are the steps.
1:) First make sure your home router is a model that has a 4 port switch on the back. The picture below is of an ASUS home router with a 4 port switch. Yours should be similar. If you have only a CABLE or DSL modem from your Internet provider, you will most likely need to purchase a home router with 4 port switch. Some models from Comcast already have this.
Note: The red Ethernet patch cable is hooked from 1 of the 4 ports to the back of the printer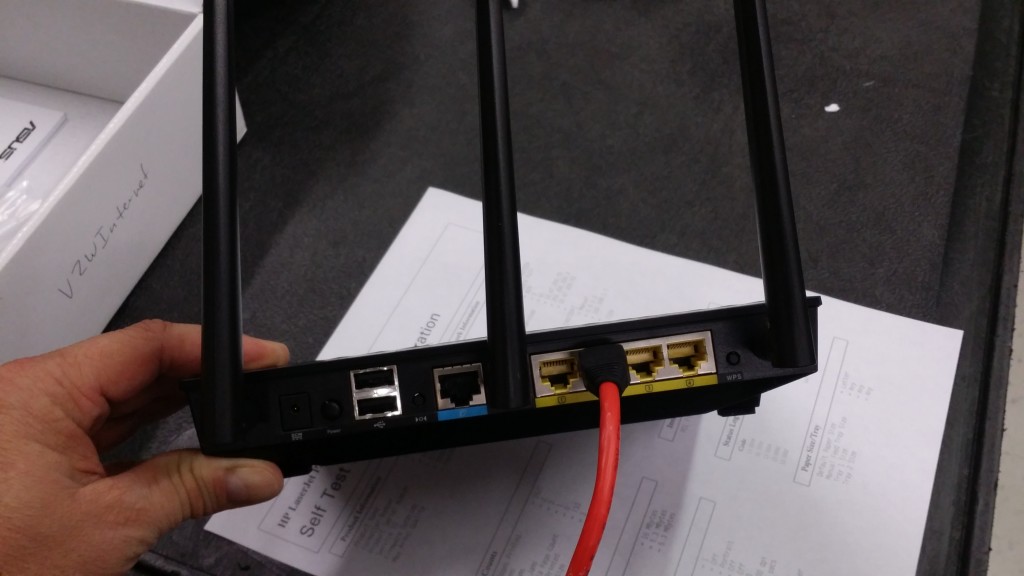 2:) Connect this cable from the 4 port switch, (not the WAN port, this should be plugged to your cable or DSL modem), and then plug that Ethernet cable to the free Ethernet port on the back of the printer. Then power cycle your printer, or turn it on.
3:) GET THE IP ADDRESS TO YOUR PRINTER. Usually just plugging the printer to the switch will automatically assign the IP address. The best way to do this is to print a config page.
Some printers automatically give a config page when you turn them on, but most will require that you either hold down the main paper feed button, like in the HP model below or there is a special button you have to press to get this.
Models with LCD screens will display it on the screen. You may not need to know this at all as most software these days will scan the network for your printer.
I am holding the paper advance button (green button) on HP laser printer for 15 seconds to get my config page.
Here it is, I need the IP address, which I have circled in RED.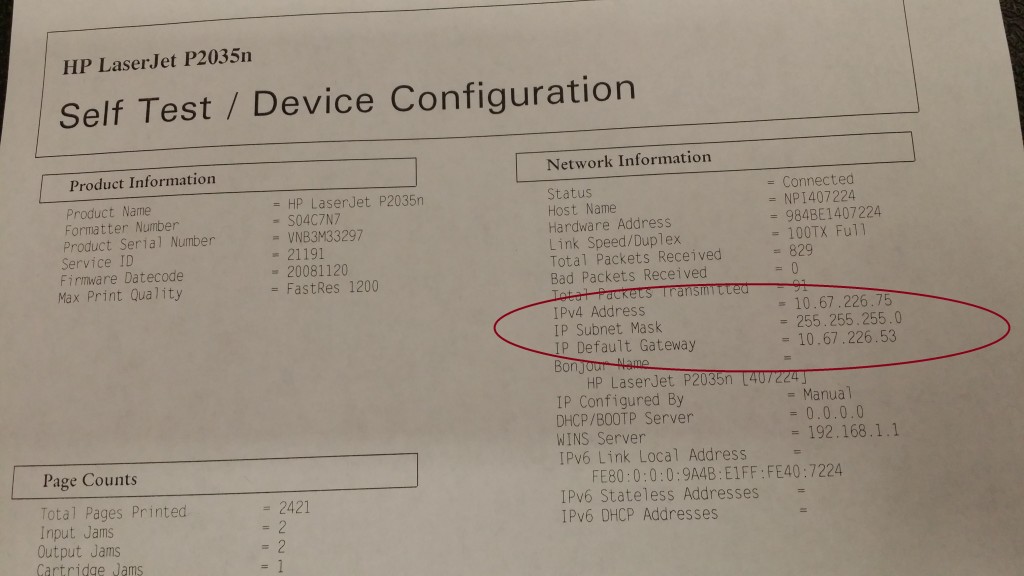 Usually the IP address will be something like 192.168.1.21 or 192.168.0.21, the last number is the only one that changes on home routers. Mine is a 10.67.226.75 which you won't see at home. This is important because allot of printer software will either scan the network or allow you to put in this address up front, which makes the installation quicker.
Important : IF YOU RECEIVE NO IP ADDRESS OR AN IP ADDRESS STARTING WITH 169, YOU HAVE DONE SOMETHING WRONG. CHECK YOUR CONNECTIONS.
TRY RESTARTING THE PRINTER AFTER CHECKING YOUR CONNECTIONS.
4:) Install your printer software and either input the IP address when asked, or let it scan your network. In the case HP printers, you can also download HP Eprint for smartphones, and if your phone is attached to your home WIFI it will automatically pick up the HP printers on your network.
Here is a pic of my HP Eprint picking up the HP printer on our network.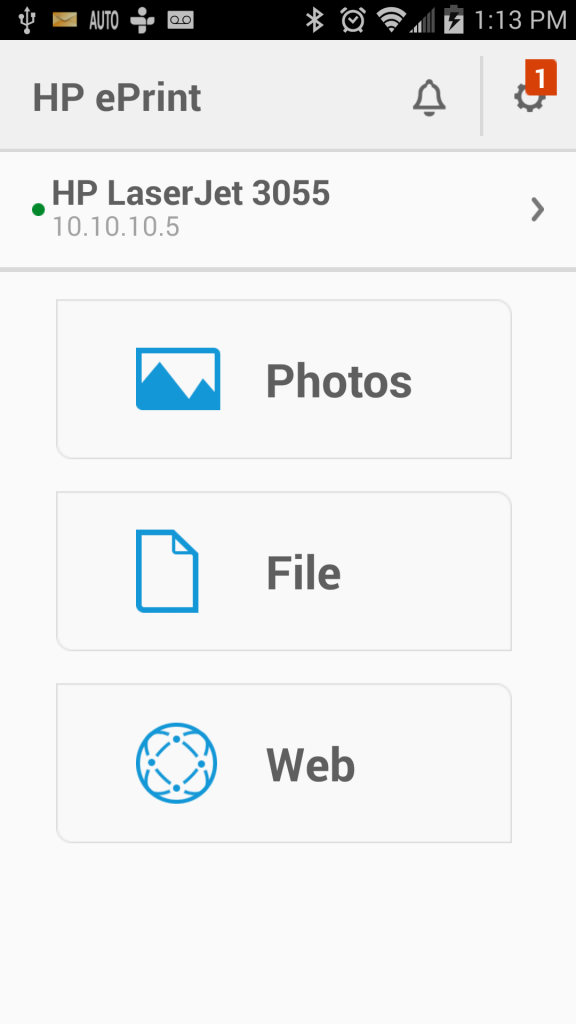 I also downloaded an APP for Android, called PrintBot, it supports thousands of printer models and lets you print straight to the printers IP address. The IP address of your printer is a handy item to have.
If you find this articles helpful, bookmark this page, and please tell your friends.